Marmara – Dardanelles
$81.16 Square Foot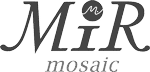 Authorized Distributer
Fast free shipping within 3-5 business days!
Mir's Marmara collection is particularly unique because of it's material. Each mosaic is crafted out of Equator Marble. Equator marble is also known as marmara white, comes from Turkey, and is absolutely stunning. With a consistent white base and grey, solid line-graining it's much different than other marbles. This beautiful material combined with the contemporary designs of each mosaic, make this tile very distinct and appealing.

Download Spec Sheet
Description
Mir Mosaics are on the cutting edge for mosaics and tile design. Creative Tile is proud to offer such a premium brand.