View Atlantis Azzorre Canarie
Call for price
The Atlantis series represents the next generation of vein cut travertine. A linear look in four appealing colors, it has a unique, satin finish that truly feels like honed stone. With the selection of rectangular sizes – from the classic 12 x 24 to the popular 3 x 12 to the new 8 x 48 plank – this series can be used in many, creative ways.
Product Details
| | |
| --- | --- |
| Color | |
| Shopping Options | |
| Material Type | |
| Style | |
| Collection | |
| Shape | |
| Tile Type | |
Description
Trim
The surface bullnose is made from field tile that is cut, ground and reglazed.
2 x 2 Mosaic
The 2×2 pieces are mounted with the veincut directional design aligned to flow from piece to piece and sheet to sheet.
Installation Information
We recommend using a tile leveling system to install this product.Most Italian manufacturers recommend a maximum offset of 8" (20cm) on all large format tiles when setting a running bond. Please refer to ANSI requirements for setting large format tiles (ANSI A 108.2 Section 4.3.8). There are special setting requirements and materials for large format tiles. Please refer to the TCNA Handbook and guidelines by your mortar manufacturer for more information.
8 x 48 Installation Information:
• Ensure the perfect planarity (flatness) of underlying floor base.
• Always double-check the quality of the tiles.
• When setting, tile should be only slightly staggered so that the ends of the tiles are within 8" or less from the ends of the corresponding staggered tile. (See figures 1 & 2)
• Staggered spacing does not need to be uniform, but should not exceed 8" recommendation.
• A minimum joint of 2 or 3 mm between tiles is recommended.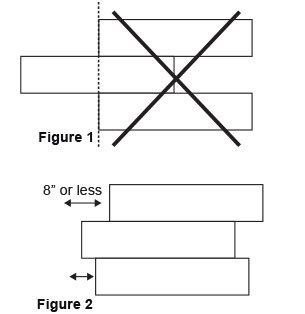 The Coefficient of Friction is a general guide only. Testing may vary with different production runs and with different testing labs.As noted in the American with Disabilities Act (ADA) the coefficient of friction varies considerably due to facts not under the control of entities such as the manufacturers and distributors. These factors include, but are not limited to, contaminants, slope of terrain, drainage conditions, adjacent surfaces, etc. Suitability for any installation can only be determined by a site examination of all conditions that could affect the slip resistance of the tile being installed. Continual cleaning and maintenance must be performed once the tile has been installed.