Cityscape – Stax White
$32.06 Square Foot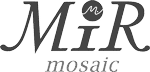 Authorized Distributor
Fast free shipping within 3-5 business days!
Cityscape by Mir Mosaic is truly dazzling. Modular mosaics that bring the sparkle and intricacy to modern design. While still keeping the major colors neutral grays and browns, this contemporary tile is perfect for subtle details within minimalistic spaces. These options are perfect for glitzing up a backsplash or shower wall. Call us to receive a sample.

Download Spec Sheet
Description
Mir Mosaics are on the cutting edge for mosaics and tile design. Creative Tile is proud to offer such a premium brand.