Crystal Springs – Chess Midnight
$23.03 Square Foot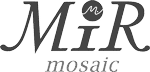 Authorized Distributor
Fast free shipping within 3-5 business days!
With pops of color and metallic blends, the Crystal Sterling collection is an eye-catcher. This is a collection of intricate square mosaic tile made from glass that combines an industrial metal style with contemporary colored glass. Any of these mosaics would be perfect for banded accents within shower walls and on backsplashes.

Download Spec Sheet
Description
Mir Mosaics are on the cutting edge for mosaics and tile design. Creative Tile is proud to offer such a premium brand.