Glamour – Camila
$36.91 Square Foot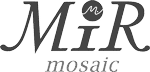 Authorized Distributor
Fast free shipping within 3-5 business days!
Camila is a beautiful glass mosaic that has some Glitz and Pizzazz but is not overstated it has soothing colors and classic shapes. Is it old or is it new? If you have to ask this question that is a good sign it's going to be a classic!

Download Spec Sheet
Description
Mir Mosaics are on the cutting edge for mosaics and tile design. Creative Tile is proud to offer such a premium brand.