Netherlands – Mondrian Ash
$32.58 Square Foot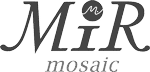 Authorized Distributor
Fast free shipping within 3-5 business days!
Glimmering and colorful, the Netherlands Collection really is an eye-catcher. A vibrant collection of glass that is sure to make any project pop with its' selection of unique and lively colors. Whether you use these glass mosaics in a large area or simply as a fun accent, they are sure to be a statement.

Download Spec Sheet
Description
Mir Mosaics are on the cutting edge for mosaics and tile design. Creative Tile is proud to offer such a premium brand.