Koala – Adobe
Call for price
Creative Tile's Koala takes its inspiration from the finest forms of Australian Eucalyptus wood, while offering all the technical advantages of rectified porcelain planks. The look is characterized by a delicate wood grain with no knots and by rich variation as the striations move from dark to light and back again.
Product Details
| | |
| --- | --- |
| Material Type | |
| Tile Size | |
| Color | |
| Origin | |
| Shopping Options | |
| Style | |
| Collection | |
| Shape | |
| Tile Type | |
Description
Installation Information
We recommend using a tile leveling system to install this product
Before installing the tile you should:
• Ensure the perfect planarity (flatness) of underlying floor base.
• Always double-check the quality of the tiles.
• When setting, tile should be only slightly staggered so that the ends of the tiles are within 8" or less from the ends of the corresponding staggered tile. (See figures 1 & 2)
• Staggered spacing does not need to be uniform, but should not exceed 8" recommendation.
• It is preferable to use a grouting material that matches the color of the tiles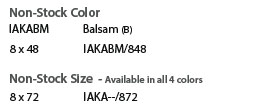 Usage
As with all inkjet lines, there are many different graphics that are mixed and packed randomly. It is important to pull from multiple boxes during installation, rotate pieces and note the placement of the different images in order to get the proper final blend.
Koala is suitable for residential to moderate commercial applications.